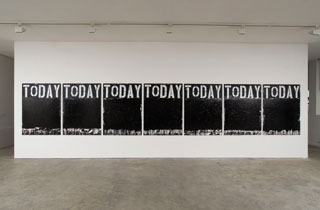 Robert MacPherson, Mayfair: Today, to the westlands, spinning for the memory of fats.s, 1997-2007
Trevor Smith em conversa com os artistas
Sábado, 28 de Junho, 16h00
Visita guiada por Miguel Wandschneider
Sábado, 13 de Setembro, 17h00
Visitas guiadas
Domingos, 6 de Julho, 3 de Agosto e 7 de Setembro, 16h00
Outras datas disponíveis para grupos organizados
(a partir de 10 pessoas)
Trevor Smith in conversation with the artists
Saturday, 28 June, 4 pm
Guided tour by Miguel Wandschneider
Saturday, 13 September, 5 pm
Guided tours
Sundays, 6 July, 3 August and 7 September, 4 pm
É PROFESSOR?
Faça o download da ficha pedagógica com as propostas de exploração pedagógica para esta exposição.
Este é o primeiro de uma série de projectos que, ao longo dos próximos anos, irão enriquecer a programação da Culturgest com uma multiplicação de pontos de vista curatoriais construídos a partir de uma mesma premissa: a realização simultânea de três exposições individuais que dialogam entre si e, em última instância, perfazem uma exposição colectiva. A este desafio respondeu Trevor Smith com a escolha de três artistas de diferentes gerações, cuja prática está profundamente enraizada no contexto cultural e social das cidades onde vivem e trabalham: Robert MacPherson (Brisbane, Austrália, 1937), Manfred Pernice (Hildesheim, Alemanha, 1963) e Kateřina Šedá (Líšeň, República Checa, 1977).
A partir de experiências de vida, preocupações e abordagens muito diferentes, todos eles activam objectos modestos, materiais simples e processos criativos que emergem fora da arena santificada da arte contemporânea como meio para explorar aspectos da cultura que foram marginalizados ou estão a desaparecer sob o impacto das mudanças sociais e económicas avassaladoras das sociedades contemporâneas.
Curadoria · Curator:
Trevor Smith
This is the first in a series of projects that, over the coming years, will enrich Culturgest's exhibition programme with a multiplicity of different curatorial proposals, all based on a single premise: the simultaneous holding of three solo exhibitions that set a dialogue between one another and, ultimately, come together as a group exhibition. Trevor Smith has responded to this challenge by choosing three artists from different generations, whose work is deeply rooted in the social and aesthetic contexts of the places where they live and work: Robert MacPherson (Brisbane, Australia, 1937), Manfred Pernice (Hildesheim, Germany, 1963) and Kateřina Šedá (Brno, Czech Republic, 1977).
Based on their very different life experiences, concerns and approaches, they all activate humble objects, base materials and creative production as it emerges outside the sanctified arena of contemporary art as a means to explore aspects of culture that have been marginalized or are disappearing in the sweeping social and economic changes of our lifetimes.